James Trimble, M.D.
Board Certified Dermatologist and Mohs Surgeon
James S. Trimble, M.D. is a board certified dermatologist and fellowship trained Mohs and reconstructive surgeon. He is also a third generation dermatologist. His grandfather, Dr. Jim Trimble practiced dermatology and skin cancer surgery in Jacksonville from 1950 to the mid 1990s. His father, Dr. James W. Trimble was Jacksonville's first Mohs surgeon and he practiced for over 30 years before retiring in 2012.
Dr. Trimble attended medical school in Syracuse, New York at Upstate Medical University. After medical school, he completed a residency in dermatology at the University of South Florida. He then went on to complete the ACGME and ACMS-accredited fellowship in Mohs micrographic and reconstructive surgery at Florida State University. He is a diplomate of the American Board of Dermatology, and a fellow of both the American Academy of Dermatology and the American College of Mohs Surgery.
He is dedicated to providing the most comprehensive and compassionate care to his dermatology and skin cancer patients. He is also honored to help carry on the practice that is the legacy of Dr. Fred Eaglstein, a place where patients and staff are considered family.
When he is not providing care to patients, Dr. Trimble enjoys spending time with his wife and two sons. His hobbies include fishing and playing guitar.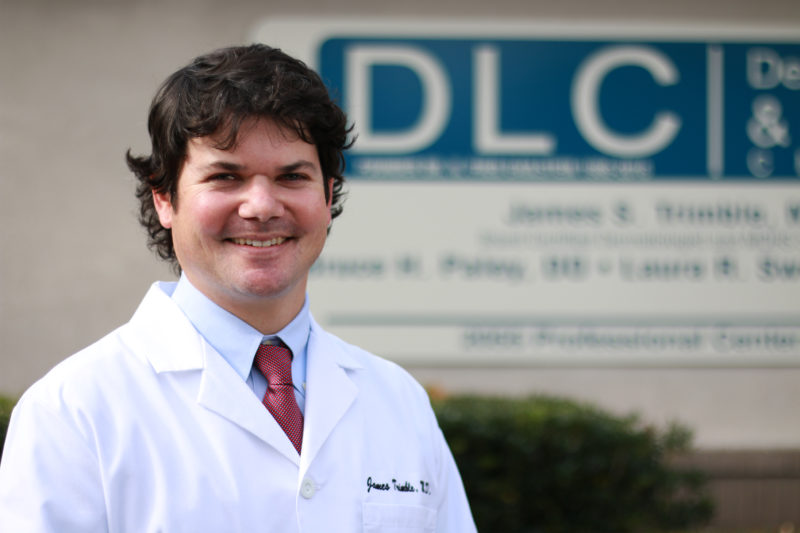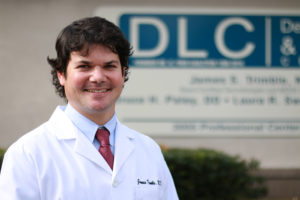 Laura Hice, APRN
Laura Hice, ARNP, joined the Dermatology & Mohs Center in 1997 as support staff for the office and later graduated with her associate in science degree in nursing from Florida Community College of Jacksonville in 2001. During this time, from 2001 to 2010, Laura worked exclusively with Dr. Eaglstein as his Registered Nurse and assisted him with all his medical, cosmetic and surgical dermatology. Laura has dedicated her education and training to become very knowledgeable with laser technology, aesthetic surgery and medical/surgical dermatology. She also worked as a nurse consultant for Candela Laser Corporation, training other nurses and physicians about cosmetic laser treatments. She completed her bachelor's degree in nursing from Jacksonville University in 2008 and went on to graduate from Jacksonville University's Masters in Nursing program with a specialization as an Advanced Registered Nurse Practitioner. Laura is nationally certified by the American Nurses Credentialing Center and is a member of the Sigma Theta Tau International Honor Society of Nurses and Lambda Rho Chapter-at-Large. Laura holds active memberships with the American Academy of Nurse Practitioners, Florida Nurse Practitioner Network and is a long time member of the Dermatology Nurses Association. Additionally, Laura is the coordinator for the Jacksonville Society of Dermatology Associates (2012) and is an adjunct faculty member for Jacksonville University RN-BSN program, guiding and mentoring nursing students in nursing research. Laura has spent her career in dermatology and has a passion for providing patients with the best comprehensive cosmetic, medical and surgical dermatology care.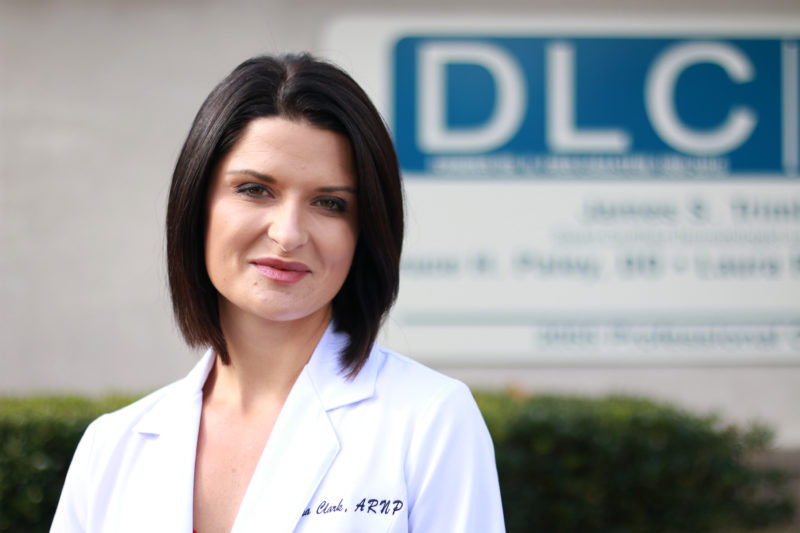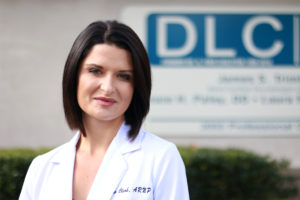 Alison Boden, Physician Assistant
Alison Boden is a NCCPA board-certified Physician Assistant specializing in medical dermatology at Dermatology & Mohs Center. A Florida native, Alison grew up in Ormond Beach. She attended Florida State University for college, where she earned a Bachelor of Science degree. She then went on to obtain her Master of Medical Science in Physician Assistant Studies at Nova Southeastern University in Jacksonville. Prior to Physician Assistant school, Alison completed a student internship program in Tallahassee at a large academic practice that hosts the FSU Dermatology Residency and Mohs Fellowship programs. The scope of education in that department gave her a solid foundation in medical dermatology and insight into the needs of skin cancer patients. She strives to improve her patients' quality of life with a compassionate approach to developing manageable and successful treatment plans. Alison is a member of the Society of Dermatology Physician Assistants (SDPA), the American Academy of Physician Assistants (AAPA), and the Florida Academy of Physician Assistants (FAPA). In her free time, Alison enjoys traveling, boating, and spending time in nature with family and friends.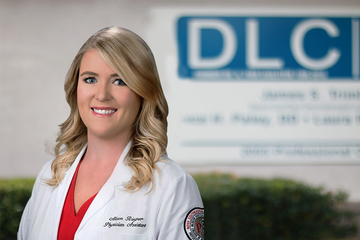 Candice VanDerSchaaf, APRN
Dr. Candice VanDerSchaaf is a certified nurse practitioner who has joined our practice with a background in surgical and oncologic care. She was born and raised in Tallahassee, Florida and obtained her Bachelors in the Science of Nursing in 2008 at Florida State University (FSU). She then practiced as an ICU nurse in Tallahassee for several years before going to graduate school at FSU where she achieved her Doctorate of Nursing Practice in 2015. She then practiced with a vascular surgery group in Tallahassee functioning as a first-assist in surgery as well as managing patients in the hospital setting with vascular and wound care specific disease processes. She then moved to Jacksonville in 2019 and was employed with the Head and Neck Surgical Oncology team at MD Anderson Cancer Center. Candice worked in surgical, hospital and outpatient clinic settings helping manage all aspects of care for head and neck oncology patients, including various skin cancers. She has since joined our team in 2022 and transitioned into primary dermatology. Candice continues to maintain her passion for oncology by providing skin checks and performing excisions of dysplastic and malignant lesions. She has an avidity for individualized care and prioritizes treatment on patient centered concerns. Outside of practice, Candice spends her time with her husband and two children who keep her very busy. She also enjoys jogging, playing with her family at the beach and reading.